Meet Our Staff
All of us here at Community Action care very much about helping as many clients as we can, to the greatest extent that we are able to offer assistance. We understand that now, more than in recent memory, is a time of incredible economic pain and suffering. Via our longstanding programs, as well as through additional assistance provided from the CARES act passed during spring 2020, we will aid households that meet our income requirements in Anderson County with assistance for past-due utility bills, those facing eviction, and with food and gardening supplies.
Our Program Coordinator for the past 20 years, Angie Simonds has spent her life in Anderson County. She was notably the Anderson County High School Marching Band's Colorguard Captain at the end of the last millennium, and after graduation helped them out as a coach! She and her little pug Max (harmless, and behind a wall for all you dog-phobic!) are usually found in our front office, and she very well may be the first face you see when you walk in. She's incredibly helpful for our clients and very capable regarding all of our CSBG programs. She is the one primarily responsible for distributing CARES money as we battle the consequences of the global pandemic.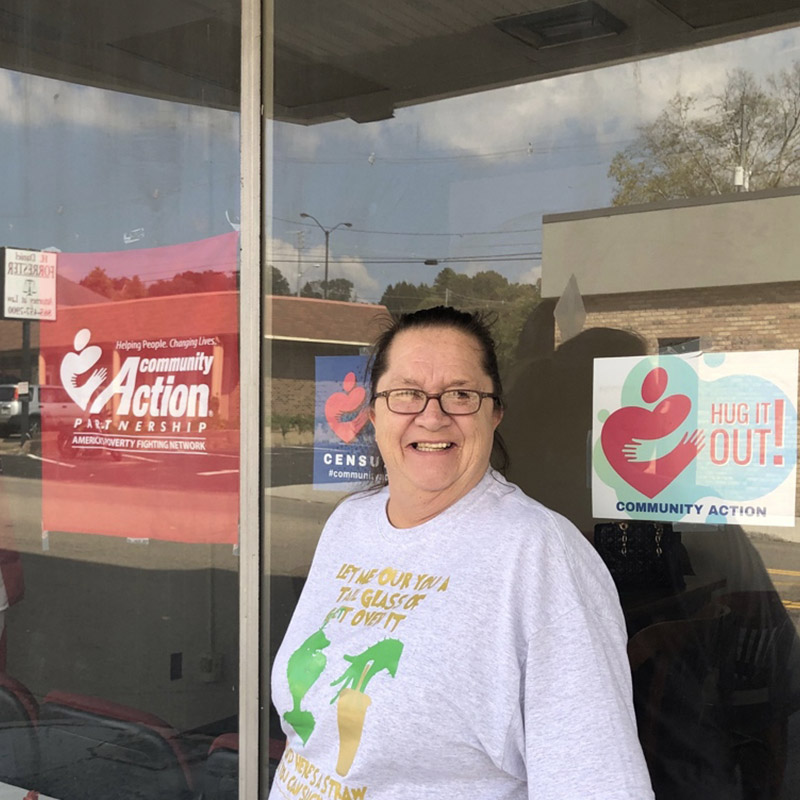 Connie Klinkhammer began volunteering at Community Action in 1990 and has been working as our Service and Maintenance Specialist for the past 17 years. She loves what she does, and she is incredibly dedicated to our mission and our clients, as her tireless work ethic has proven these past three decades. We are incredibly lucky to have someone as strong, spirited, capable and kind as Connie.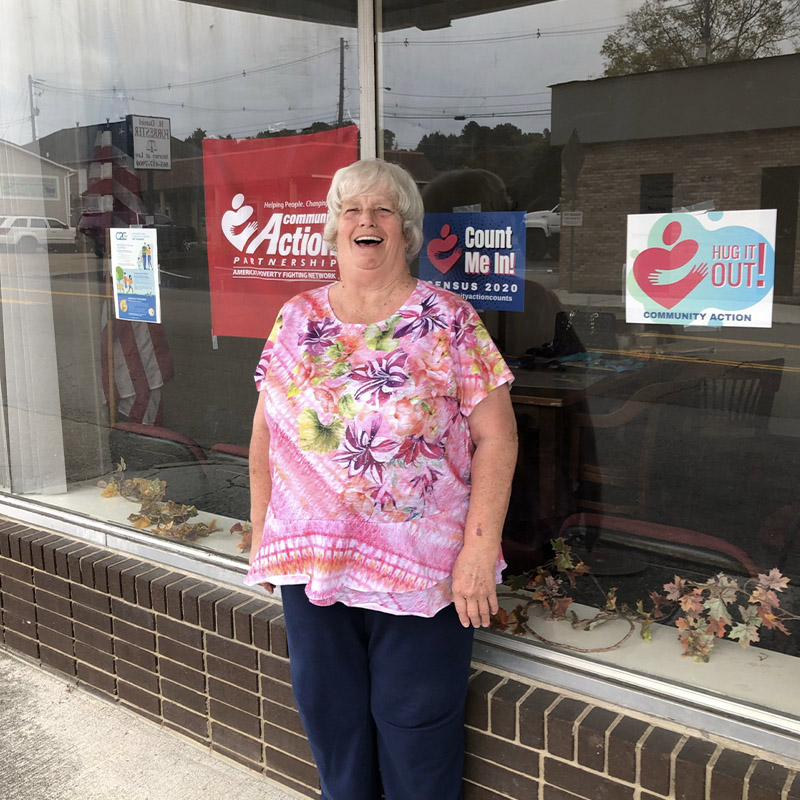 Mary Dabney works with us part time and may very well be a friendly voice on the other end of the phone when you call us! She will gladly pass you through to the person or give you the phone number of the person you may be able to provide you assistance. Mary is full of life and helps us reach our smile quotas each day. Your day is always better having interacted with her. Don't be shy! She's not!
Our newest member is our Executive Director, Leyla Keinanen, who has returned to Anderson County after many years away (Who knew 2020 was the worst year to make a big homecoming, at least in terms of anyone from childhood being able to see and recognize her face!). She takes over for the legendary Susan Bowling, who was the heart and soul of Anderson County Community Action for 42 years until her retirement (1978-2020!!!) and will remain a VIP around here. Leyla was in marching band with Angie back in the nineties, as the drum major leading the show, and suffers from a bossy streak to this day. She tries really hard to harness her energy and enthusiasm for the forces of good, and these past four months they have all gone towards the mission of Community Action! Hopefully the results will begin to speak for themselves as we add new programs and expand awareness of our mission throughout the county, and gain new partners and collaborators.
Dixon Accounting is conveniently located in Clinton, TN. Just minutes away from Knoxville, Powell, Lafollette, Oakridge, and Rocky Top. Consider Dixon Accounting if you are looking for an accountant, bookkeeper, or needing help with Quickbooks. Schedule an appointment today. I will come to your office for a free consultation. www.dixonaccounting.com